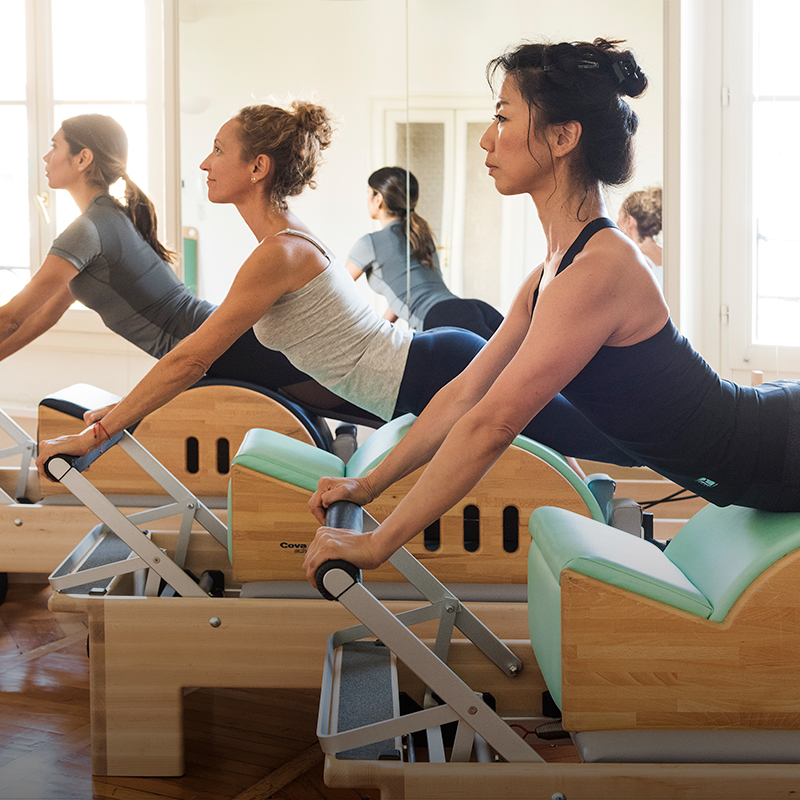 Come discover the perfect Pilates® class for you.
CovaTech® Pilates® Studio offers a large choice of classes suitable to anyone who wants to practice Pilates. We welcome new Clients of any level: if you have never practiced Pilates, if you come from other Studios or other disciplines, if you have special needs of rehabilitation support or if you simply want to be the best version of yourself, CovaTech® Pilates® method offers you the possibility to do it.
Every Teacher who works in our Studio achieved the "CovaTech® Pilates® Teacher" certification and is constantly kept up-to-date, directed and coordinated by Anna Maria Cova.
All our classes are held with big apparatus and small props, they have a duration of 55 minutes and are exclusively by appointment.
Knowing you in order to recommend the best personal workout.
CovaTech® workout initiates with a series of classes called "Introductory program" which have the scope to get to know the Client, the physical characteristics and the training goals in order to custom tailor the best individualized workout program. On the other hand, the introductory program allows Client to approach the Pilates safely and with efficacy, to ensure the maximum results and time-efficiency.
Read more
A CovaTech® Pilates® Teacher dedicated solely to you.
Our private classes allow you to have a personalized guidance dedicated exclusively to your work-out.
Your CovaTech® Pilates® Teacher will guide you throughout an individual program of exceptional quality, adjustable to any level of preparation: base, intermediate, advanced and super-advanced.
Read more