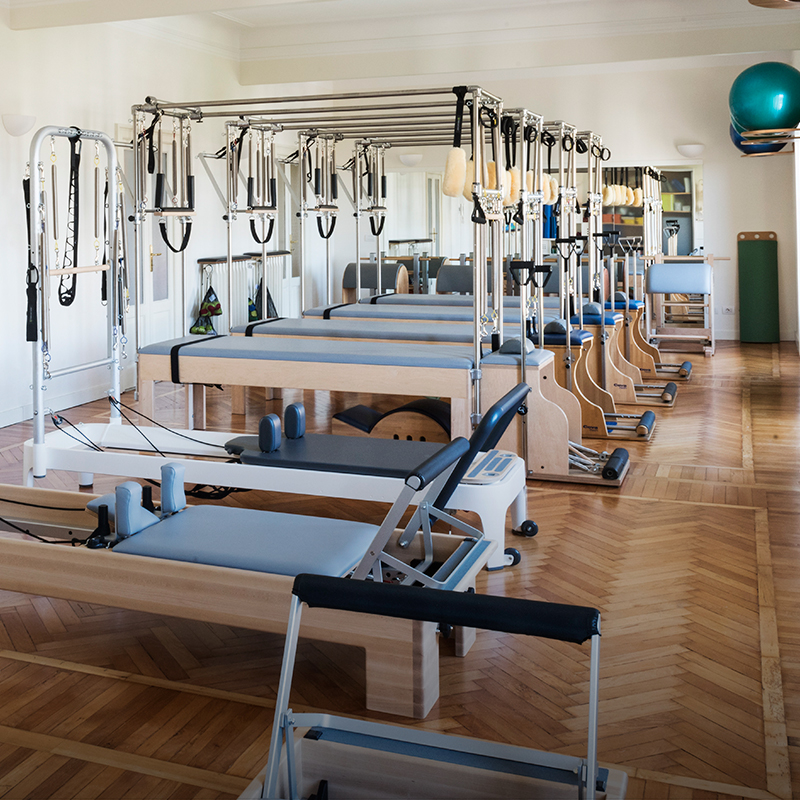 The complete, state-of-the-art Pilates equipment.
CovaTech® Pilates® Studio offers the most complete and state-of-the-art range of Pilates equipment.
Our apparatus is realized using the most cutting-edge technology and the most advanced and ergonomic materials, respecting the environment and our health.
Based on the original equipment created by Joseph H. Pilates, thanks to the partnership with Genesi - the leading company in Italian market - we are proud to offer our Clients the complete range of Pilates' workout with equipment studied and developed for the specificity of CovaTech® Pilates® Method.
We have available the complete apparatus to answer any training demand, from the Pilates' beginner to the professional: Reformer, Cadillac, Chair, Big Barrel, Step Barrel, Magic Circle, a wide range of small tools and a specific equipment called Swing Barrel®, created and patented by Anna Maria Cova.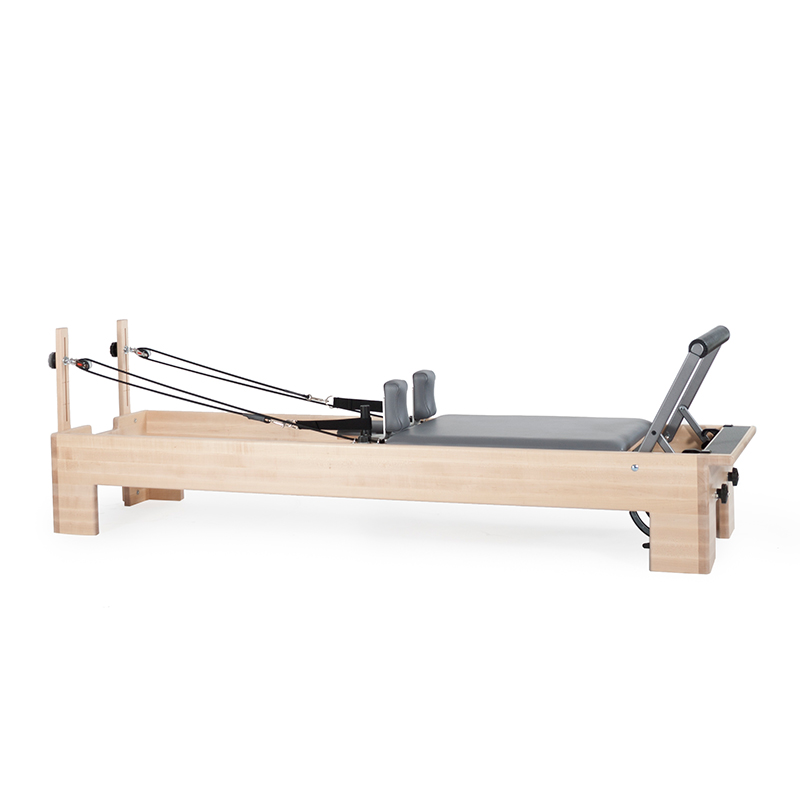 Universal Reformer
It was born from the extraordinary intuitions of J.H. Pilates and it is a simple yet very versatile apparatus which allows to work intensely in dynamic involving all the muscle groups.
It is made up of a bedded-shaped frame with two headers above which there is a movable carriage furnished with springs of various resistance which can be hooked at one of the headers.
From a technical standpoint, our Reformers represent the excellence on the market as far as comfort and production quality are concerned. They are realized in rock-solid natural maple and aluminum and allow the execution of any Pilates exercise at any level of difficulty, in complete smoothness and safety.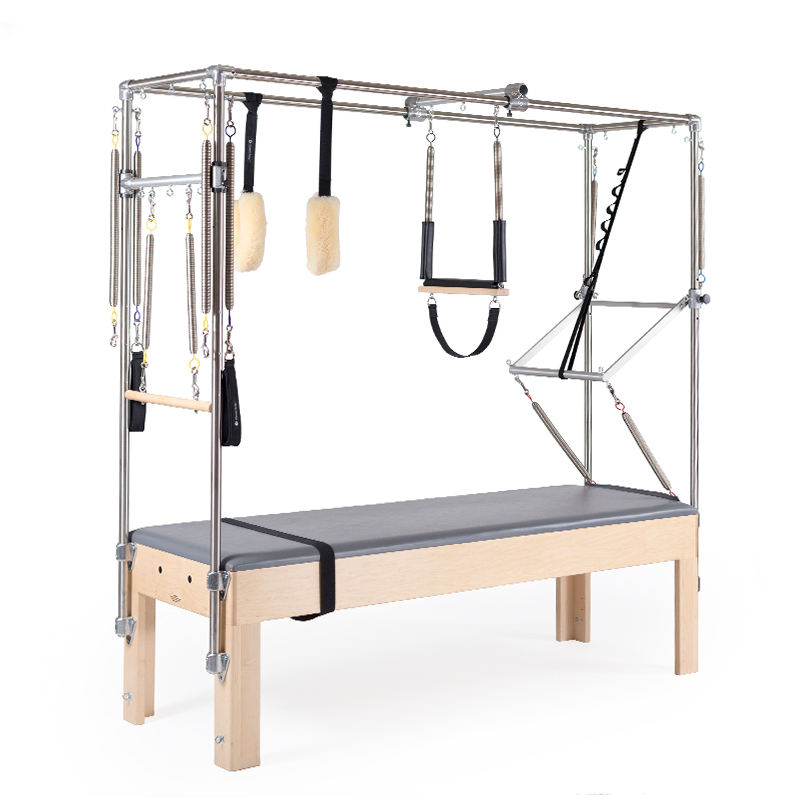 Caddilac
It is an apparatus which allows to execute an intense work in static and dynamic involving all the muscle groups both individually and globally. Invented by Joseph H. Pilates, the Cadillac acquired that name because of its ease of use, thus to be compared to the most comfortable car of that time.
It is made up of a canopy-shaped bed topped by a metallic structure which can be furnished with springs at different heights and angles. The Cadillac is equipped with specific accessories which integrate and complete the apparatus: the Trapeze, the Rolling Back Bar and the Tower. Through those accessories, it is possible to execute a vast repertoire of exercises for a deep muscular workout which is effective and healthy at any age and for any level of preparation.
Chair
This is an apparatus on which one can practice exercises in standing position, sitting down, prone or supine, it allows a progressive strengthening work of any muscle, coordination and balance.
Its name derives from its size and from the fact that it was one of the first gym equipment specifically created by J.H. Pilates to be used in one's home. Conceived as a small apparatus furnished with resistances, the original chair, in fact, could be transformed into a common small house armchair.
The contemporary version available in our Studio is the most resistant and stable on the market, built in natural rock-solid maple and steel, it represents a synthesis between the features of the original chair and those of the "electric chair", a bigger original version furnished with handles.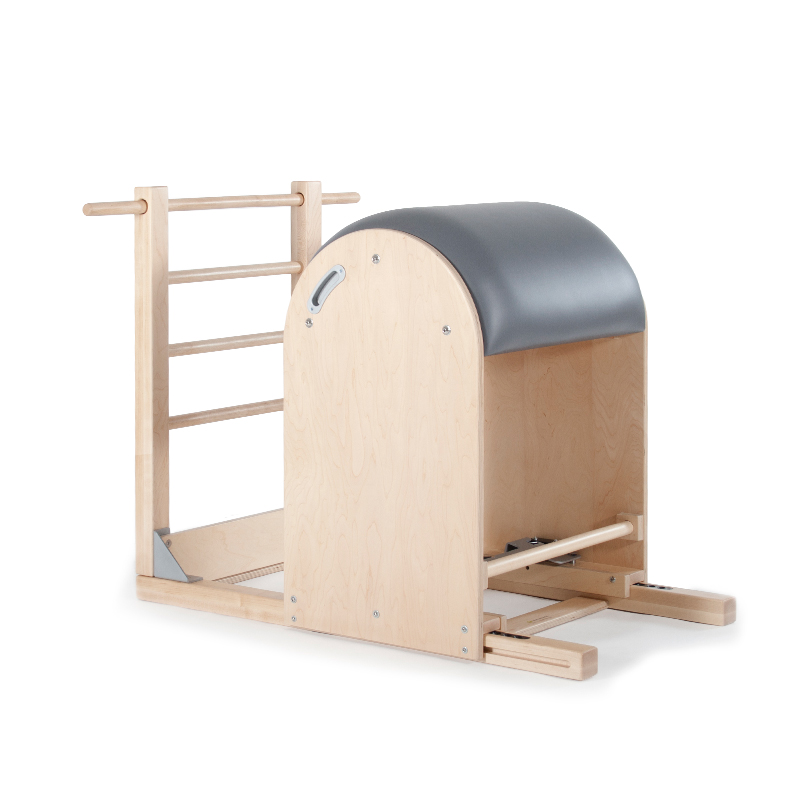 Big Barrel
It is a semi-cylinder-shaped apparatus furnished with a comfortable external upholstery on which one can practice exercises which allow the mobilization of any segment of the spinal column, always involving any muscle chain.
Originally built with the same technique of the barrels (thus its name) it exploits all the makings of the new wood manufacturing's techniques.
Our barrels are realized in natural rock-solid maple, they have an adjustable structure according to the different body types and are ideal for stretching and strengthening exercises of medium, advanced and super-advanced level.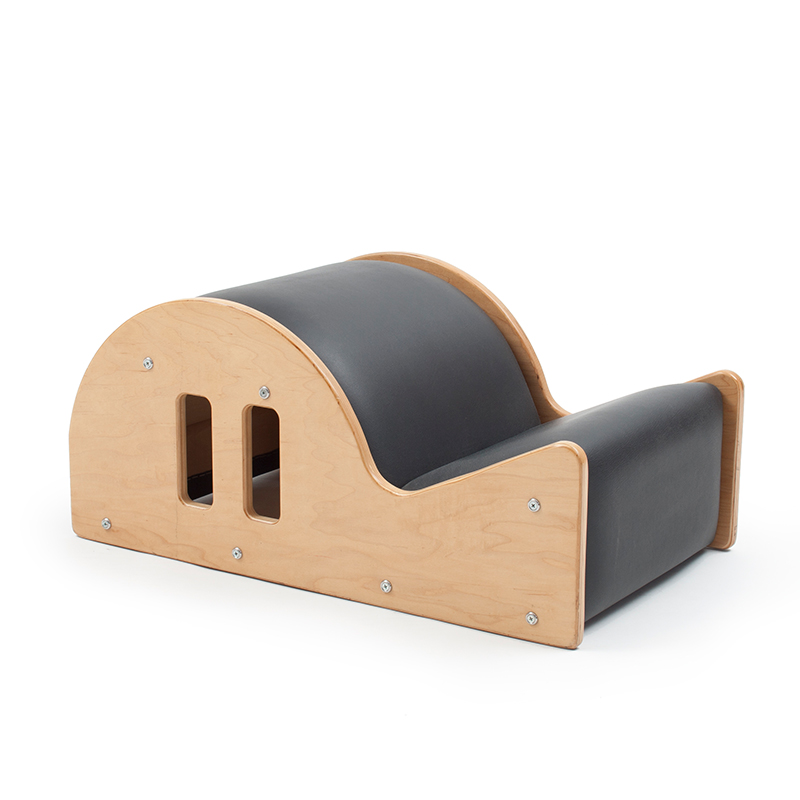 Step Barrel
Even the Step Barrel was born from the intuition of the creator of Pilates technique and it is a variant of the Big Barrel with a different radius of curvature.
Our Step Barrels can be used alone or in combination with the biggest Pilates apparatus, they are realized with a faux leather padded surface, pre-shaped natural wood panels and have comfortable lateral handlers. That kind of structure maximizes the apparatus' solidity and allows to execute the exercises with increasing level of difficulty, safely.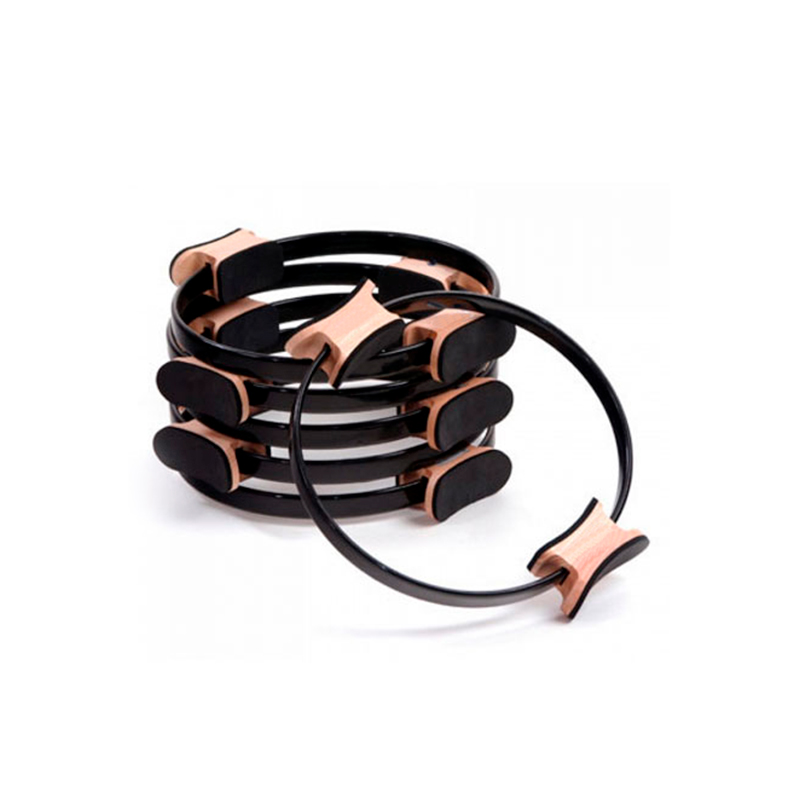 Magic Circle
It is a circle of approximately 40 cm diameter, furnished with lateral handles with which one can execute awareness and isometric stabilization exercises, it can be used in Matwork or in combination with the Reformer, using it either with arms or with legs.
Our Magic Circles are in covered glass fiber, have ergonomical, non-slip handles for maximum protection.
They can be used by putting pressure either inward or outward so that you can tone up different muscle groups. For that reasons, they help the learning process and the correct comprehension of the exercises, allowing to feel exactly which muscles are working. Moreover, by utilizing them, one can increase the difficulty of execution in order to differentiate levels and ability of workout.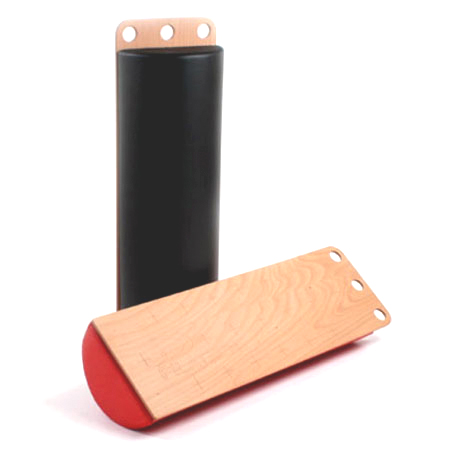 Swing Barrel®
To answer the need - in basic Pilates repertoire - of working on proprioception in standing position, Anna Maria Cova invented and patented a new apparatus, the Swing Barrel®, which can be used in any way - from quadrupedy to the supine position - in various teaching programs.
The Swing Barrel® combines innovation and tradition allowing to integrate the classic technique with a propaedeutic work useful to perform any exercise, both with or without other equipment.
Through the Swing Barrel®, one can also execute variants of Matwork and Step Barrel exercises and – in combinations with elastics – of Cadillac's exercises too. Thanks to the platform which is based on, realized in natural wood, it is ideal for balance and for strengthening legs and ankles.
Other Tools
Among the various intuitions leading to the definition of CovaTech® Pilates® Method by Anna Maria Cova, there is the introduction of small tools which are used in special programs or to integrate the execution of Pilates exercises: balls in different sizes and textures like the Tender Ball or the Sensory Ball; cushions to help the proprioception like the Air Pad; rubber bricks and elastics of different textures and variable resistances.